100mm EXL Louvre
Manufactured by DJB Projects in West Sussex
The 100SL is an extruded aluminium continuous appearance louvre blade that is mainly used for screening purposes, but can be either site or factory assembled into bespoke louvre panels. Louvres are arranged at a 100mm blade pitch on aluminium clips and supporting mullions to suit height span. Supplied in modular form or breakdown format.
About 100SL Louvres
100mm blade pitch
Extruded aluminium AW6063-T6;BS EN755 (H9TF;BS1474) profiles to 6063 T6
50 % Free area
Excellent budget louvre
Available in panel or continuous screening option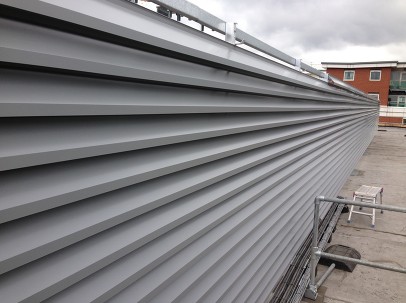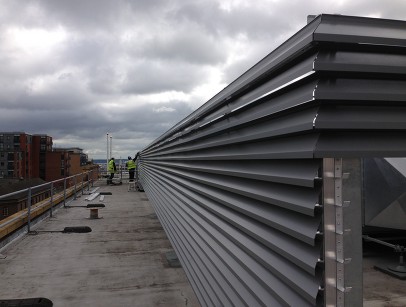 Colours & Finishes
All louvre products can be supplied in a wide range of colours and finishes, including:
Mill Aluminium
Delivered in plain aluminium material which will oxidize after a period of time.
Polyester Powder
Aluminium and galvanised steel louvres are coated with polyester powder in colours from RAL range. A stoved process which is supplied with an applicators 15 year adhesion guarantee. Coating thickness is 40 microns. As standard, marine environment is also available on request.
Stoved Acrylic
Suitable for Aluminium only - colours from the BS4800 range.
Not recommended for external applications.
Anodising
Suitable for Aluminium only. Available in satin silver, light, medium and dark bronze. Colour variations can be expected.
For more details on our wide range of louvre systems