75mm EXL Louvre
Manufactured by DJB Projects in West Sussex
EXL louvres have flexibility to provide many design solutions, with vertical horizontal blade form and rolled radiused blades for special requirements such as curved faced buildings.
The blade pitch is 75mm, however, variations in pitch are possible. Mullion supports and brackets can be at a maximum of 1200mm. Mitered corners are also available.
The EXL louvre system has been successfully weather tested on the BSRIA (Building Services Research and Information Association) testing rig. For full information on the results please contact our technical department in Littlehampton.
Aerodynamic performance of louvre ventilation systems can be accurately calculated using the resistance factor generally known as 'K' factor. To calculate requirements for the EXL louvre system using the chart below.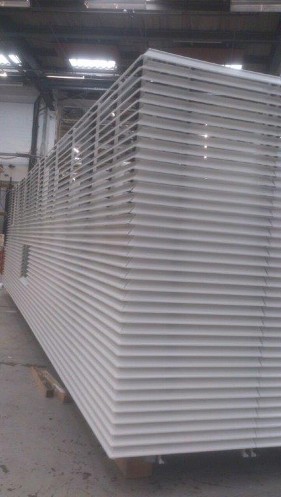 The above EXL louvre systems include bird guards
75 EXL Louvre System Specifications
The DJB 75 EXL louvre system has been specifically designed to meet both the aesthetic and performance of a fixed louvre system.
Materials:
Extruded aluminium AW6063-T6;BS EN755 (H9TF;BS1474) profiles to 6063 T6
Flame retardant nylon 66 twist lock support brackets
Aesthetic features:
Continuous appearance which can include doors
Front edge drain lip
Clean, sharp lines
Mitred corners to maintain continuous appearance
No visible fixings
Triangular, circular or rhomboidal shapes
Frame surrounds suit most applications
Performance features:
Optimum airflow (typically between 40% & 50%)
Choice of weathering performance
BSRIA weather tested (results available upon request)
Rigid system requiring minimum of supporting steelwork
Design allows linear expansion
Installation features:
Ease of on-site installation
Small louvre assemblies can be delivered fully assembled
Large assemblies delivered in part assembled form
Assembly details provided
Installation service available
Optional extras:
Aluminium bird guard
Aluminium or stainless steel woven insect mesh
Single or double skin blanking plate
Bonded thermaflect insulation
Door Assembly
DJB EXL louvre door assemblies can be provided within complete louvre assemblies or as an independent. Our doors can be supplied to provide a continuous effect within louvre systems being fitted with top and bottom pivot assemblies. We can also supply the doors with their own individual frame if continuous affect is not needed which can be fitted with our standard accessories and fittings or we can provide other fittings such as door stays, panic bolts and various different accessories to suit your requirements.
Colours and finishes
All louvre products can be supplied in a wide range of colours and finishes, including:
Mill Aluminium
Delivered in plain aluminium material which will oxidize after a period of time.
Polyester powder
Aluminium and galvanised steel louvres are coated with polyester powder in colours from RAL range. A stoved process which is supplied with an applicators 15 year adhesion guarantee. Coating thickness is 40 microns. As standard, marine environment is also available on request.
Stoved Acrylic
Suitable for Aluminium only - colours from the BS4800 range.
Not recommended for external applications.
Anodising
Suitable for Aluminium only. Available in satin silver, light, medium and dark bronze. Colour variations can be expected.
For more details on our wide range of louvre systems