The DJB range of Acoustic Louvres are manufactured in two number models these are the DJB150 and the DJB300. Both these types of acoustic louvres provide a good acoustic performance as shown below. The DJB150 acoustic unit is 150mm deep and the DJB300 is 276mm deep.
Acoustic louvre system specifications:
150mm or 300mm deep
75mm blade pitch as standard (others available)
Steel or aluminium option
Optimum noise reduction
More information on our Acoustic louvre systems
Both, the DJB150 and the DJB300, can be manufactured in either 2mm thick aluminium or 1.5mm thick galvanised sheet, and are supplied with bird mesh screens fitted to the rear face of the louvre assembly. Special types of screen (in place of birdguard) can be fitted to inhibit the entry of vermin and insects upon request. The acoustic blades are spaced at every 90mm (can be varied to suit free area requirements upon request) and the acoustic blade is 120mm deep angled at 55 degrees. The acoustic blades' infill material will be 45kg/m3 rockwool fibre with tissue face to one side only. Normally, the acoustic louvres are of a riveted construction, but where corners etc are required, these then would be of riveted and welded construction.
These acoustic louvres can be supplied either in mill finish state or polyester powder coated to a standard RAL or BS colour range.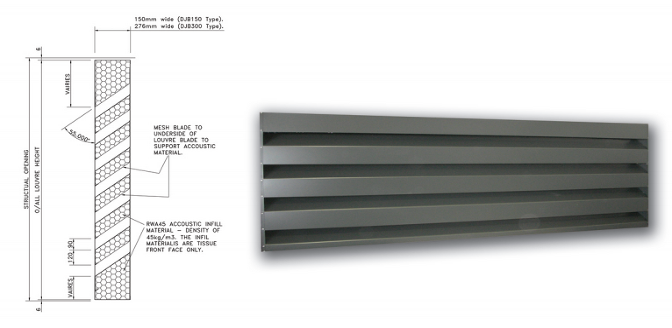 Colours and finishes
All louvre products can be supplied in a wide range of colours and finishes, including:
Mill Aluminium
Delivered in plain aluminium material which will oxidize after a period of time.
Polyester powder
Aluminium and galvanised steel louvres are coated with polyester powder in colours from RAL range. A stoved process which is supplied with an applicators 15 year adhesion guarantee. Coating thickness is 40 microns. As standard, marine environment is also available on request.
Stoved Acrylic
Suitable for Aluminium only – colours from the BS4800 range.
Not recommended for external applications.
Anodising
Suitable for Aluminium only. Available in satin silver, light, medium and dark bronze. Colour variations can be expected.
Quality Brise Soleil systems in Littlehampton
Our systems are available in a variety of blade types, and give great flexibility to fit all building designs, offering an aesthetically pleasing building feature, whilst still providing visibility through the glazing.